Event details
27/05/2018
15:30
Sint - Adrianuskerk Adegem-Dorp, Adegem (Maldegem)
0472 51 17 29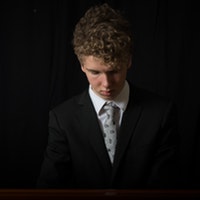 Aaron Pausenberger, een jonge beloftevolle pianist uit Adegem, geeft i.s.m. Orgelpunt Adegem op   27 mei 2018 om 15.30 u in de Sint – Adrianuskerk een pianorecital.
Tijdens dit lenteconcert speelt hij werken van o.m. Beethoven, Skrjabin, Prokovief en Granados.
Tickets: 10€ VVK – 12€ ADD – Familiekaart: 25€ (ouders en inwonende kinderen)
Reservatie: Luc.pausenberger@skynet.be – 0472/511729 of overschrijving: BE 83 7512 0554 0515
met vermelding van naam, adres en aantal kaarten.
Uw kaarten liggen dan voor u
klaar aan de ingang van de kerk. Adegem-Dorp, Adegem (Maldegem)
Omdat Culturaal jong talent graag promoot, kunnen we u dit concert alleen maar heel warm aanbevelen !